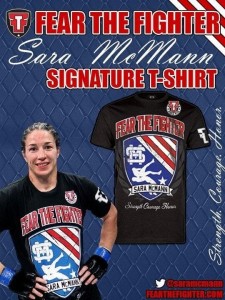 La marca canadiense Fear the Fighter cuenta entre sus luchadores patrocinados con la imbatida en MMA (6-0) y única medallista olímpica americana (2004) en Wrestling, Sara McMann.
Sara debuta en el UFC este sábado, y por ello Fear The Fighter aprovecha la ocasión para presentar su camiseta oficial.
En ella vemos un guiño, como no, a su mayor logro deportivo, la medalla de Wrestling con una silueta de un suplés dentro de un escudo con la bandera estadounidense.
Visto en: Twitter Fear The Fighter